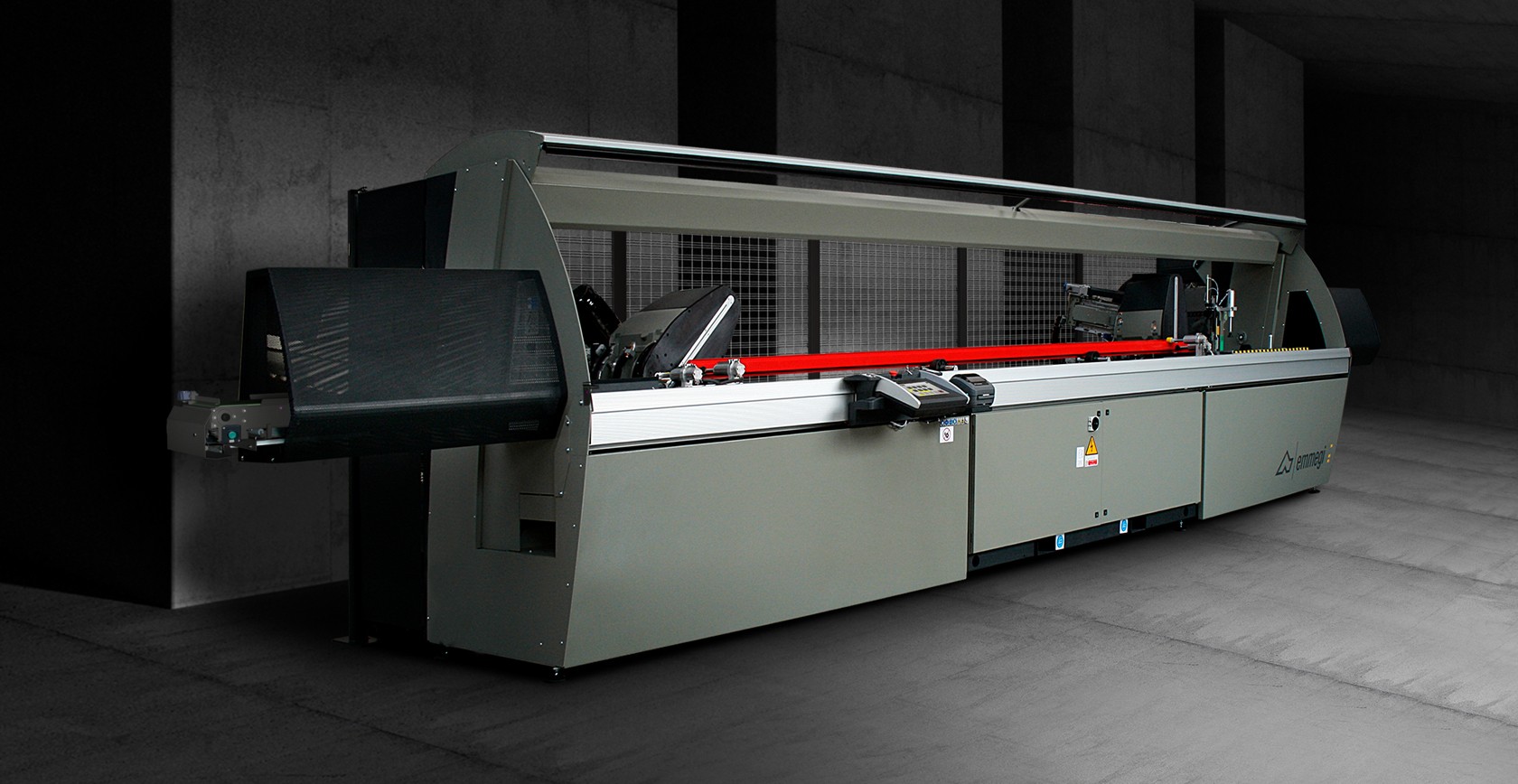 Precision T2/R2 E-HS (CM)
Focusing on the future also, and above all, means meeting customer demands. And, in this context, "flexibility" is the keyword.
The special Comet and Precision twin-head cutting-off machine models were thus created: machinery designed to cut and machine profiles in composite materials, specially designed to meet the ever-increasing demands of customers who machine ''pultruded" profiles for doors and windows (composed of a polyester matrix reinforced with fibreglass), fibreglass profiles and other composite materials that require solutions for machinery equipment.
In fact, during the machining phase, these materials produce particularly harmful abrasive dust that can also damage device operation. Ad hoc solutions were thus adopted to preserve operator health and integrity of the parts.

Designed with integral protection, Precision T2E-HS twin-head cutting-off machines have proved to be ideal when completely closed.
Precision T2E-HS models have a forced suction system on the head, which is connected to a powerful external exhauster. Given the special features of machined materials, the importance of an efficient suction system is evident, as well as the type of blades used for cutting. For this purpose, specific studies were carried out and, today, Emmegi is able to offer a turnkey system that guarantees perfect machine operation and complete operator safety.

01 Lubrification System > Sistema di lubrificazione supplementare ed ingrassaggio automatico centralizzato. Assicura lubrificazione ed ingrassaggio di pattini di scorrimento e viti a ricircolo di sfere permettendo l'evacuazione automatica delle polveri depositate (sporco o sedimento) lungo l'asse X. Non sono più necessarie le operazioni di lubrificazione manuale.

02 Detail of the rear coverings > Dettaglio coperture posteriore. L'utilizzo del PVC telato come materiale di copertura assicura una facile pulizia e lavabilità delle superfici posteriori. Assicura inoltre il contenimento da urto accidentale con pezzi o sfridi di lavorazione.

03 Prooer closing of the guards > La corretta chiusura delle protezioni è assicurata da microinterruttori. Se i pannelli di copertura non sono correttamente agganciati la macchina non parte e viene visualizzato sul controllo un messaggio di errore.

04 Suction system > Ogni unità di taglio è dotata di sistema di aspirazione trucioli/sfridi posto inferiormente all'uscita lama e convogliatore di aspirazione fumi posto sul fianco della testa.